Deborah Miller of Visages
Rico:
What's Your Name?
Deborah Miller :
Rico:
List your shop(s) -
Deborah Miller :
Visages
Rico:
How long have you been at Zazzle?
Deborah Miller :
Just about two weeks
Rico: Are you a ProSeller?
Deborah Miller :
No... not yet. One day soon I hope
Rico:
What's the best advise you got when you were starting out?
Deborah Miller :
Promote... promote... promote and don't give up
Rico:
What medium/tools do you use to create your designs?
Deborah Miller :
Acrylic paints, camera that needs upgraded badly, soft #6 pencil, oil pencils, PhotoPosPro software and most importantly, my imagination.
Rico:
Who or what inspires you?
Deborah Miller :
If I look, I find inspiration everywhere but primarily I use nature, my pets (currently my ferrets), and I peruse the internet when I have a particular subject in mind.
Rico:
How much time a week to you spend on Zazzle?
Deborah Miller :
80 to 100 hours promoting, adding my art to product and reading the blog for research and such.
Rico:
What's the best advise you can give someone just starting out on Zazzle?
Deborah Miller :
Be a Nike and just do it. Then spend the time promoting. Lots of time! You can create a gazillion pieces of art but until you're known, you won't sell anything. I don't know much about promoting online so I do a lot of reading and research. This is also a must-do.
Rico:
What do you like to do when you are not creating art?
Deborah Miller :
You know? I almost can't remember since getting into Zazzle and putting my art onto things like postage stamps. I did play Scrabble nearly everyday, read, play with my ferrets, and learn. I LOVE learning.
Rico:
Tell me 5 random things everyone should know about you?
Deborah Miller :
I love to sniff new books in the book store.
Nothing like the aroma of fresh ink. I would say the same about my oil pencils.
I art directed automotive magazines in the 90s. Mustang Monthly and Super Ford out of Lakeland, FL.
I can teach old dogs (yes, the animal) new tricks.
I HAVE to be productive; I can't just sit and waste a day.
I enjoy pleasing people.
Rico:
List 3 of your favorite designs you want me to feature. Tell me something about each design.
Deborah Miller :
Monarch Butterfly Card:
Monarch Butterfly Greeting Card
by
Visages
Shop for
greeting cards
at zazzle.com
After sitting for an hour in my back yard during the monarch migration, I finally managed to digitally capture this little guy resting on a vibrant flower. I used the zoom but to ensure I got all of his fine detailing, I crept forward as much as I dared. This is the final result of which I'm proud.
Ferretism (Sayings) T Shirt:
Panda Bear Apron: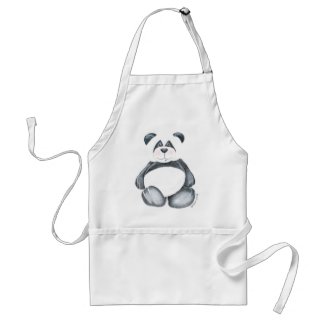 Panda Bear Apron
by
Visages
I created this panda with pencil and oil pencil after I received a request to draw one. It took a full day and the end result was well received by the requester who loves to cook and wanted a panda bear apron. Most everything I create is simple. I'm not wont to add frills to my art...
Rico:
This is one of my personal favorite designs from your shop
FrankenFerret Shirt: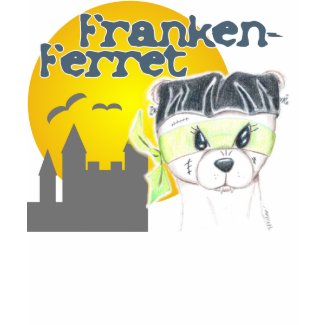 FrankenFerret Shirt
by
Visages
See more
Ferret T-Shirts
I just think this design is unique and quite cute!
Rico:
Where else can our readers find you online?
Deborah Miller :