Scott Ruhs of Scott Ruhs Photography
Rico:
What's Your Name?
Scott Ruhs
Rico:
List your shop(s) -
Scott Ruhs :
Scott Ruhs Photography
This is my main store which sells a variety of products featuring my photography and digital artwork.
Atlantic Dreams
This store features the photography and artwork both myself and my Wife, Darlene. Most of the images have a nautical theme.
Look for more in the near future as I plan to create some stores that will specialize in specific products.
Rico:
How long have you been at Zazzle?
Scott Ruhs :
Since 7/20/2003. I only joined at that point to create some T-shirts for my band. Around 2007 I decided to take another look and started to create products for sale.
Rico:
How long did it take you to become a ProSeller from when you started?
Scott Ruhs :
I only became a ProSeller this Summer, so a long time. I don't put in as much time as I would like to, but life can be busy. I'm not complaining though. It was a great honour to reach the ProSeller status.
Rico:
What benefits, if any have you personally seen since reaching ProSeller status?
Scott Ruhs :
I haven't really seen any changes. Sales have actually been a bit slow in the last few months, but I think that has more to do with the economy than anything else.
Rico:
Has becoming a ProSeller change the way you market you shop? If so please explain.
Scott Ruhs :
I've added the ProSeller logo to my store banner, but I haven't used it as a marketing tool. I like to believe that if people are going to buy my products it's because they like the products. I don't think being a ProSeller really matters to customers.
Rico:
What's the best advise you got when you were starting out?
Scott Ruhs :
Create lots of products, try to be unique, know your customer's needs, and make your store visually appealing and easy to navigate.
Rico:
What medium/tools do you use to create your designs?
Scott Ruhs :
Photography is my main medium of choice. I also create some digital composites from my photos using Adobe PhotoShop CS5.
Rico:
Who or what inspires you?
Scott Ruhs :
Anything can be an inspiration at any given time really. Whenever I see the work of others, or read/watch a tutorial on a particular subject it can inspire me to try it on my own, and make it something unique to me. I like things that have an emotional impact on me, and that is what I try to do with my photography and artwork. It is up to the viewer to decide whether or not I was successful in doing so.
Rico:
How much time a week to you spend on Zazzle?
Scott Ruhs :
Not enough, LOL. Because of my full time job and a daily commute of over 2 hours I don't get in nearly as many hours as I would like. I do at least visit Zazzle everyday, and try to spend an hour or so on there.
Rico:
What's the best advise you can give someone working toward ProSeller on Zazzle?
Scott Ruhs :
Be persistent, create lots of quality products, and have fun doing what you are doing. From what I've seen the people who do really well have a dizzying number of products.
Rico:
What do you like to do when you are not creating art?
Scott Ruhs :
I enjoy spending time with my family and friends, playing music with my classic rock/blues band, and my wife and I love to go out and explore with our cameras.
Rico:
Tell me 5 random things everyone should know about you?
Scott Ruhs :
I love my Wife,
I recently found out I have a half Sister,
peanut butter and jam sandwiches are still a favourite snack,
I'm left-handed,
I want to some day record Ozzy Osbourne's Crazy Train in an Elmer Fudd voice.
Rico:
List 3 of your favorite designs you want me to feature. Tell me something about each design.
Scott Ruhs :
The Yellow Dory Of White Point canvas Print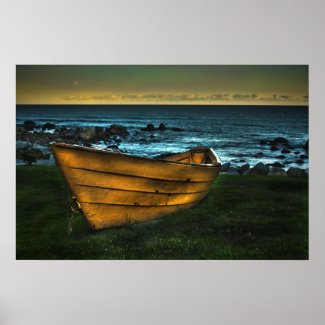 The Yellow Dory Of White Point canvas Print
by
sruhs
Be a
art affiliate
with Zazzle.
This yellow dory sits on the lawn of the White Point Beach Lodge where my Wife and I stay during vacations in the Summer. We love this place, and it isn't really that far away. I took a number of exposures of this and created an HDR image.
Truck Stop Sky fine art print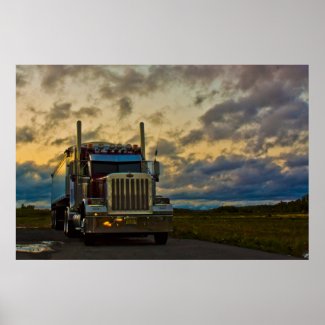 Truck Stop Sky fine art print
by
sruhs
Browse other
Hdr Posters
When Hurricane Earl came through Nova Scotia we lost power at least three times. When the worst of the storm was over the power was still out so I went outside to see what I could see. Across the street from my house there is a parking lot for tractor-trailers, and I saw how the light was hitting this particular truck. The sky behind it was quite dramatic as well, so I got down low and took a shot of it. I was actually contacted by the company that owned the truck and they bought several copies of the image. One of them was to be a gift for the driver of the truck . I thought this was very cool, as would never have known to whom this truck belong.
Good Times Bad Times fine art print Print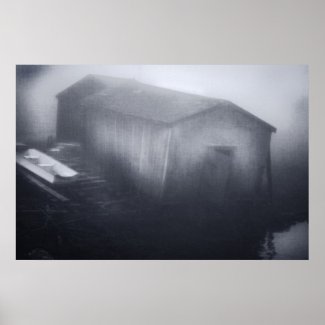 Good Times Bad Times fine art print
by
sruhs
Browse other
Sruhs Posters
This image is also related to a storm. When my Wife was a young girl her Father was a lobster fisherman and she used to go out to sea with him. This shed belonged to her Grandfather and she used to get locked in to cut bait while her Father went to get the fishing boat and she would get on the boat from the waterside of the shed. Well in 2007, when tropical storm Noel came through, this shed was damaged and started to fall into the ocean as seen in this image. When I first published this image I was naming my images after famous songs. I thought that "Good Times Bad Times" was fitting for this image as this old shed had seen some good times, and had now seen some bad times as well.
Rico:
This is one of my personal favorite designs from your shop
Surfer Triptych Posters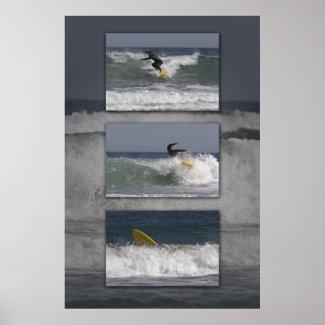 Surfer Triptych
by
sruhs
Browse other
Surfing Posters
Surfing at White Point Beach Wipe Out - This is a three part colour photographic image known as a triptych. This depicts the progression of surfing. The first image has the surfer up and doing well. The second image shows the surfer starting to wipe out. The third image shows the tip of the surfboard coming up out of the waves. The background in this image is of a big wave.
Rico: I love the ocean and surfing and this print is perfect!
Rico:
Where else can our readers find you online?
Scott Ruhs :
Facebook page
Facebook
Twitter
RedBubble ( Scott Ruhs)
RedBubble (Atlantic Dreams)
Tumblr
NAPP
Model Mayhem
ReverbNation
Atlantic Dreams Blog
Google+
YouTube
Big Stock
Crestock
Fotolia