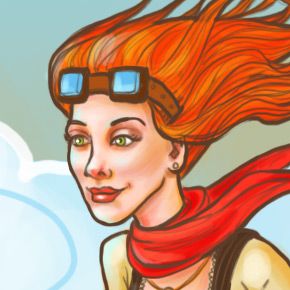 SL Scheibe of RandomLeft



Interview with SL Scheibe Part 1
Rico:
What's Your Name?
Sal:
Rico:
List your shop(s) -
Sal:
RandomLeft
I have one shop called RandomLeft. The name doesn't have any meaning unfortunately! My shop carries my illustrations and designs and is mostly focused on fun things like little monsters, geekdom, pirates and zombies. I have plenty of pretty girl style art too. Most of my designs work best on T-shirts and bags.
Rico:
How did you find Zazzle?
Sal :
I bought a calendar that someone put together and my art was included. That was my first introduction to Zazzle and I thought selling my own designs might be fun and also bring in some art supply income… possibly!
Rico:
How long have you been at Zazzle?
Sal :
Since the beginning of January 2013
Rico:
Are you a ProSeller?
If yes, how long from the time you open a shop until you made it to ProSeller?
Sal :
No, not yet. I hope to be one day.
Rico:
What made you decide to open your own store?
Sal :
I draw daily and already had quite a few designs that I thought might work well on products like t-shirts, bags and cards and I've often had family and friends asking where they can buy art prints so Zazzle seemed like a logical fit. I love that there are tons of products available.
Rico:
What makes your shop stand out from the rest?
Sal :
I have a fairly distinct art style and it's for fun, light hearted and a bit offbeat.
Rico:
How would you describe your design style?
Sal :
Comic mostly, light, fun.
Rico:
What type of product do you prefer to design?
Sal :
I usually design with T-shirts in mind.
Rico:
What's the best advise you got when you were starting out?
Sal :
I read the Zazzle forums and most people say just to keep going, keep adding, keep promoting and that's what I intend to do. I know it's hard work and that's fine with me.
Rico:
What was your first sale (include link)?
Sal :
A zombie t-shirt. A family member bought it! That counts right?
Red Hot Zombie T-shirt
Red Hot Zombie Tshirt
by
SLScheibe
Custom t shirts
at zazzle.com
A once beauty who was sadly zombified.
Rico:
What medium/tools do you use to create your designs?
Sal :
I often sketch ideas in my sketchbook and then do the lineart, coloring and lettering in Photoshop.
Rico:
A few of my Favorite desings from RandomLeft :
Monster Gothic Dart Board
Monster Gothic Dart Board
by
SLScheibe
Look at American gothic Dartboards online at
Zazzle.com
A couple of monsters from America, based on American Gothic. The dad holds a pitchfork while his spinster daughter monster stands beside him. Monsters live on farms too.
Dancing in the Rain! Greeting Cards
Dancing in the Rain! Greeting Cards
by
SLScheibe
See more Dance Cards at
zazzle.com
This happy little monster with a yellow raincoat and wellington's, loves to dance in the rain. He probably likes to sing in the rain too. Dance with him!
Handsome Pirate is a Scallywag Drinking Bottle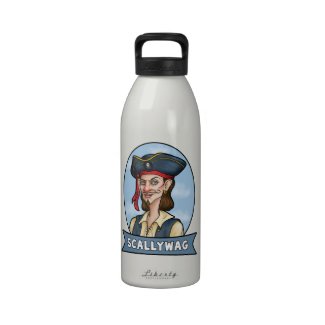 Handome Pirate is a Scallywag Drinking Bottle
by
SLScheibe
Browse other
water bottles
He may look hot but he's a bad boy pirate. Look at the raised eyebrow! That says it all. Scallywag.
The second half of the Interview with Sal: will be posted on Sunday February 24, 2013. So come back for more with SL Scheibe !