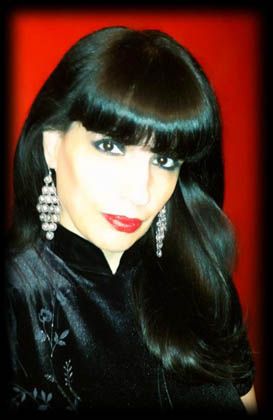 Gina Gomez of GinaG Creations



Interview with Gina Gomez Part 2
Rico:
What is your favorite aspect about Zazzle?
Gina Gomez :
It has tons of different products and allows you to express yourself, and get paid for it.
Rico:
Who or what inspires you?
Gina Gomez :
My kids and my husband.
Rico:
What's the best advise you can give someone just starting out on Zazzle?
Gina Gomez :
To be patient. Take your time when you start creating your store. Do the research first. Make sure you know what you're doing. I learned the hard way that many products had two sides for example, so I had to go back and redo them. Take the time to study each product and create what looks best on it. Not all images will look good on all products. And don't give up. If you don't make sales right away, give it time.
Rico:
What was the latest product you added to your wish list (include link)?
Gina Gomez :
I don't have any in my wish list right now.
Rico:
Tell me 5 random things everyone should know about you?
Gina Gomez :
I'm a photographer.
I'm a mother of four great kids.
I'm a native New Yorker.
I love classic rock.
I love anything that has to do with Woodstock or hippies.
Rico:
What do you like to do when you are not creating art?
Gina Gomez :
I work full time as a legal secretary. I also go out taking photos in my spare time around NYC.
Rico:
Include links to 3 of your favorite designs you want me to feature. Tell me something about each design.
Gina Gomez :
This is a peace sign pillow. I designed it from scratch
Peace Sign Pillow
Peace Sign Pillow
by
GinaGCreations
View more
throw pillows
.
Custom retro abstract peace sign design I created myself. Feel free to customize any of my products as well.
This bag has a photo I took of the Manhattan skyline. I love this photo and I love these bags.
New York City Skyline Messenger Bag
New York City Skyline Messenger Bag
by
GinaGCreations
See other
commuter bags
.
I took this photo of the Manhattan, NYC skyline while on the Staten Island Ferry. It gives you a great view of this amazing skyline. All of my products feature my own photography. I'm a native New Yorker and a passionate photographer. I've walked many miles taking photos of things that inspire me. From wildlife to flowers, to nature and street scenes, you'll find a great variety in my store. If you don't see something you're looking for, please contact me. I'd love to create something just for you!
This messenger bag has a cool design I created. It features a yellow 45 record insert
Retro 45 Vinyl Record Album Courier Bags
I designed this using a 45 vinyl record insert. If you love the 70s as much as I do, then you'll love this retro bag.
Rico:
Zazzle has helped many people meet goals that they otherwise wouldn't have achieved. What has Zazzle helped you to achieve in your personal life?
Gina Gomez :
It definitely gives me a purpose and hope to earn a second income.
Rico:
Where else can our readers find you online? (Facebook, Twitter, other blog or website)
Gina Gomez :
Facebook
My website
Punk Your Chucks - My husband's company site, I work on this site as well

My other stores:


Pretty Party
Wild for Wildlife