Debi Dalio of Clown Fish Cafe



Interview with Debi Dalio Part 2
Rico:
What is your favorite aspect about Zazzle?
Debi Dalio :
I like the wide variety of products and the ease with which I can put an image on any of them. I love the fact that the site is easy to use and doesn't require Flash.
Rico:
Who or what inspires you?
Debi Dalio :
Inspiration comes from anywhere, usually unexpectedly. For example, I heard the song "Karma Chameleon" on the radio in the car one day and instantly got the idea for my Karma Chameleon character (red, gold, and green!).
Rico:
What's the best advise you can give someone just starting out on Zazzle?
Debi Dalio :
Use templates where appropriate, check the forum for places to advertise your products, and be patient.
Rico:
What was the latest product you added to your wish list (include link)?
Debi Dalio :
The last product I added to my wishlist was a T-Rex Valentine Greeting Card. He's so cute!
T-Rex Valentine Greeting Card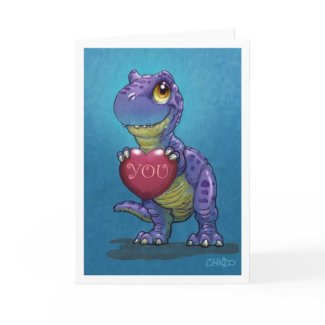 T-Rex Valentine Greeting Card
by
chiodobros
Look at Valentine Cards online at
Zazzle.com
Give this adorable, prehistoric Valentine's Day card to your sweetheart. tyrannosaurus rex
Rico:
Tell me 5 random things everyone should know about you?
Debi Dalio :
I was a software engineer for 23 years.
I write and edit articles for GIMP Magazine.
I'm gluten-intolerant,.
I enjoy dining out in New Orleans, LA,.
I read comic books.
Rico:
What do you like to do when you are not creating art?
Debi Dalio :
I love to play role-playing games on my PC.
Rico:
Include links to 3 of your favorite designs you want me to feature. Tell me something about each design.
Debi Dalio :
I had noticed some interesting graphic designs on Zazzle and wanted to create one myself along similar lines. I don't remember where the seascape idea came from, but I wanted to do something with a layered look. The bottom of this image is the sandy shore. As you move toward the top of the image, the view moves out into the water until it reaches the horizon.
Seascape Poster
Seascape Poster
by
ClownFishCafe
Browse for more
wall art
on Zazzle
This stylized seashore scene includes seashells, crabs, buoys, waves, fish, whales, seagulls, clouds, and stars on a backdrop of blues, greens, browns with a sunset in red, orange, and yellow.
I love the face on the lion in this photo I took.
Male Lion Mouse pads
Male Lion Mousepads
by
ClownFishCafe
Browse
Lion Mousepads
This stately male lion's attention is entirely focused on you.
I woke up one morning with this design in my head. I like the bright, cheery colors.
Sun Pattern Throw Pillow
Sun Pattern Throw Pillow
by
ClownFishCafe
See other Sun Pillows at
zazzle
Liven up your bedroom or family room with this bright and colorful pillow that has a circular geometric sun pattern in red, yellow, and orange.
Rico:
Zazzle has helped many people meet goals that they otherwise wouldn't have achieved. What has Zazzle helped you to achieve in your personal life?
Debi Dalio :
It's given me a new purpose since I stopped working in software engineering. It's good to have something to work on every day.
Rico:
Where else can our readers find you online? (Facebook, Twitter, other blog or website)
Debi Dalio :
Blog
tumblr.com
Twitter @DebiDalio
Rico:
Anything you'd like to ask me?
Debi Dalio :
What inspires you?
Rico :
I'm inspired by many things. Nature, art, my grandchildren, music. Inspiration can be found all around us if we keep our eyes open.