Amanda French



Interview with Amanda French of Made By Manders Part 2
Rico:
What is your favorite aspect about Zazzle?
Amanda French :
My favorite aspect about Zazzle is the community. There are so many wonderful people on there that are always ready to help if you need it.
Rico:
Who or what inspires you?
Amanda French :
I am inspired everyday by life in general. There is so much beauty and magic around our every day lives, we just need to remember to stop and look!
Rico:
What's the best advise you can give someone just starting out on Zazzle?
Amanda French :
Believe in yourself. Be patient. Don't get discouraged, everything takes time. And of course, don't forget to spread the word about your store!
Rico:
What was the latest product you added to your wish list (include link)?
Amanda French :
The Kokeshi Cutie Postcard was my latest wish list addition. Its so cute!
Kokeshi Cutie Fireworks Postcard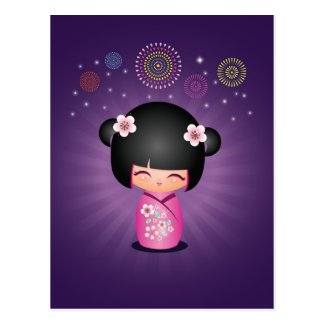 Kokeshi Cutie Fireworks Postcard
by
minercia
Find other Japan Postcards at
zazzle.com
Based on Japanese dolls, the super-cute designs are great for everyone - or for little girls who just *love* their Kawaii! Check out the matching set.
Rico:
Tell me 5 random things everyone should know about you?
Amanda French :
Five random things.... Hmmm... Ok
I am extremely empathetic.
I love to cook and I'm convinced EVERYTHING tastes better on the grill.
I love to learn and have always looked up new words I come across if I'm not sure of the meaning (To this day) .
I write all the time. Poetry has been a wonderful outlet for me for as long as I can remember.
I love glitter. You can never have to much glitter. ;)
Rico:
What do you like to do when you are not creating art?
Amanda French :
I love to make things whether it be by sewing, crocheting, sculpting, etc. Also, on my downtime I enjoy a good book. Oh and I can never watch enough episodes of The Office!
Rico:
Include links to 3 of your favorite designs you want me to feature. Tell me something about each design.
Amanda French :
First is my "Gothic Fairy" design. She is sitting with her wings unfurled and her big beautiful eyes gazing out at you.


Gothic Fairy iPad Mini Covers
Gothic Fairy iPad Mini Covers
by
MadeByManders
See another
iPad Mini Case
online at Zazzle
Add a little magic to your life with this sweet Gothic Fairy design, She is all dressed up in her striped stockings and flowers in her hair and she's waiting for you to give her a home. :) I hope you like this newest drawing.
Second is my "Retro Afro Woman" I am really proud of this one. I worked really hard trying to get her just right. I hope I did!
Retro Afro Woman Spiral Note Books
This little lady has style and attitude that goes on for days. A fun retro 70's inspired design, I really enjoyed drawing this. I hope you like this!
And Third is my photo "Tree and Ivy" This tree is one of the most beautiful trees I have ever seen. I often go to the park and sit by it while I draw.
Tree and Ivy Poster
Tree and Ivy Poster
by
MadeByManders
Find other Nature Posters at
zazzle.com
Add a touch of nature to your home or office with this lovely photograph of a tree adorned with ivy. I truly enjoyed taking this and I hope you like it too!
Rico:
Zazzle has helped many people meet goals that they otherwise wouldn't have achieved. What has Zazzle helped you to achieve in your personal life?
Amanda French :
Zazzle has helped me believe in myself. I had spent so much time being afraid of what others would think that I did nothing at all. With Zazzle, I overcame my fear of rejection and put my art out in the world. It's been a wonderful journey!
Rico:
Where else can our readers find you online? (Facebook, Twitter, other blog or website)
Amanda French :
Twitter @MadeByManders
Pinterest
Rico:
Anything else you'd like to share?
Amanda French :
Just want to say thank you for this opportunity to share my work.
Rico:
Anything you'd like to ask me?
Amanda French :
How long have you been blogging? Do you enjoy it? What other things interest you?
Rico :
I've been blogging since 2009, when I opened my first Zazzle store. I very much enjoy blogging and sharing my designs and that of of other Zazzle artists.
My other interests are; music, (I love all types of music and it inspires me), watching a good movie or reading a great book, spending time with my wife and our grandchildren, being out in nature.