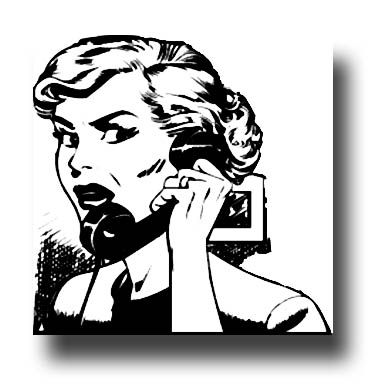 Karen of Funny T-Shirt
Rico:
What's Your Name?
Karen from Manchester UK
Rico:
List your shop(s) -
Karen :
My shop is Funny T-Shirt
When I first came across Zazzle I had no previous experience of designing for online print on demand sites. I was just excited at the thought of producing customised gifts for myself and friends, so I chose the name the worse way you can, quickly and without thinking - lol! 'Course I didnt know anything about tags, SEO etc at that time and it seemed as good as any. I would choose more wisely now as my store is an eclectic mix of different styles and influences, but I would like to think all my designs bear my mark. My bestsellers do continue to be tshirts tho, whether they are funny or not!
Rico:
How long have you been at Zazzle?
Karen :
Since October 2008
Rico: Are you a ProSeller?
Karen :
Yes I am.
Rico: How long from the time you open a shop until you made it to ProSeller?
Karen :
It only took me three months but I was very lucky. It was the October of the run up to the Obama election and so to practice I made a Obama themed tshirt before designing a tshirt for myself. But i left the Obama tshirt up for sale. And 3 days later it sold! I was overjoyed and of course wanted to create more and better designs for sale....and all of a sudden Im a fully fledged Proseller Store Keeper!
Rico:
What's the best advise you got when you were starting out?
Karen :
I cant believe I posted this in the forum now but I asked if Zazzle was for real and would we get paid! Another storekeeper MouseArte was very kind and reassured me. She said yes, keep going, post designs that you truely like yourself and others will like them also. I think that is the key to my sales, I post designs I would buy myself and it helps me keep a eye on the quality of the designs. Im quite a hard customer to please! And of course Zazzle is a great company to partner with.
Rico:
What medium/tools do you use to create your designs?
Karen :
I use Photoshop and Illustrator mostly.
Rico:
Who or what inspires you?
Karen :
Life inspires me. I get my ideas from everyone and everywhere. I can be watching the news and an item or image will be the spark or speaking to a friend and something they say makes me laugh r even a just taking a photo on a walk. Honestly Zazzle has literally opened my eyes and ears to life around me.
Rico:
How much time a week to you spend on Zazzle?
Karen :
At least an hour every day Monday to Friday but mostly more and at the weekends probably 4-5 hrs.
Rico:
What's the best advise you can give someone just starting out on Zazzle?
Karen :
Create items you would buy yourself. Your pride in the item will communicate itself to like minded people. And promote, promote, promote!
Rico:
What do you like to do when you are not creating art?
Karen :
I love a good book, a long walk with my sisters dog, Blossom, having girly shopping days with my daughter, comedy clubs and swimming.
Rico:
Tell me 5 random things everyone should know about you?
Karen :
Im a qualified fire eater. Yes, really!
If you leave me alone with your open box of choccies your asking for trouble
I sometimes play guitar badly when Im bored and no ones around.
If you can make me laugh you're a friend for life.
If I didnt have to sleep I would love to be a Guerilla Gardener!
Rico:
List 3 of your favorite designs you want me to feature. Tell me something about each design.
Karen :
Psychedelic Pop Art Poster FROM 8.99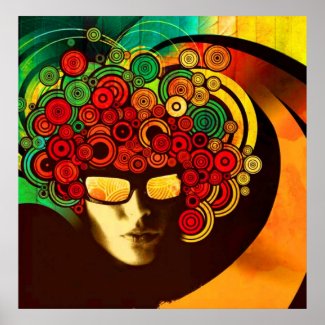 psychedelic pop art poster FROM 8.99
by
funny_tshirt
See another
museum poster
on zazzle.com
- This is my most popular poster. I think the color and pop art style is the attraction and the fact you cant tell if it is man or woman.
Hallowen Clown T-Shirt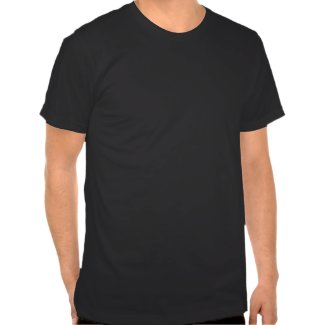 halloween clown tshirt
by
funny_tshirt
View more
Halloween T-Shirts
This Halloween tshirt even scares me! Its also available on a Halloween party invitation which customers seem to like.
Evolution Revolution T-Shirt
I made this before the movie Planet of the Apes came out as a parody of the Che Guevara image and a twist on the Darwin theme.Now the movie has added an extra layer of irony. It still makes me laugh.
Rico:
This is one of my personal favorite designs from your shop
Retro DJ Tee Shirt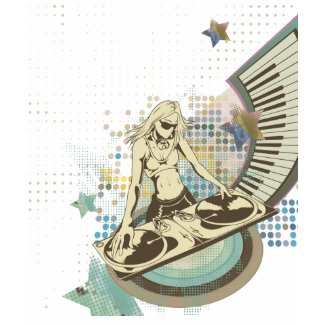 retro dj tee shirt
by
funny_tshirt
View other
Retro T-Shirts
Just love the colors and the graphics!
Rico:
Where else can our readers find you online?
Karen :
Hmmm, good question I do post on twitter but under the name Kashrich. I will have to change that.
Twitter
Im too busy for Facebook.