Erin Cooper
Rico:
What's Your Name?
Erin Cooper
Rico:
List your shop(s) -
Erin Cooper :
ShadoWind Original Art By Erin Cooper
Most of my art focuses on the fantasy genre, but I also enjoy making animal and wildlife art. I have been going by the name Shadowind online since sometime around high school, I like the name as it evokes an imagery in my mind of what you would see if you could visualize the movement of the wind. I imagine would look similar to the way rippling water reflects and shines and casts shadows on things. The interplay between shadow and light fascinates me. I also love ravens which with their black color look like a little shadow on the wind.
Rico:
What type of product do you sell the most of?
Erin Cooper :
I sold a lot of my 2012 dragon calendars this year, besides that I think my greeting cards probably sell the most.
Rico:
How long have you been at Zazzle?
Erin Cooper :
I believe it's been about 3 or 4 years.
Rico:
How did you find Zazzle?
Erin Cooper :
I found Zazzle through another artist and friend of mine who I met when I was attending school at the University of Saint Francis.
Here are his two shops:
Tee Freak - Unique and Fun T-Shirts
Sketchy Tees - Unique and Fun T-Shirts
Rico:
Are you a ProSeller?
If yes, how long from the time you open a shop until you made it to ProSeller?
Erin Cooper :
Yes, I think I got my pro seller status sometime at the beginning of last year. But I don't remember when exactly.
Rico:
What made you decide to open your own store?
Erin Cooper :
At the time I already had a shop with cafepress, but It never sold anything and I never did much with it advertising or anything.
I liked the looks of zazzle's and I liked that they had some unique products that looked like fun to design (like shoes and skateboards).
I wanted a fresh start with new artwork at and a new shop so I thought I would try it out, I sold something the first week I opened my shop which I found very encouraging so I've been Zazzling ever since!
Rico:
What's the best advise you got when you were starting out?
Erin Cooper :
To use as many good/accurate keywords for products as possible when posting a product.
Rico:
What was your first sale (include link)?
Erin Cooper :
"Together we are One" Unicorn postcard was my first sale to someone from France!
Together we are One PostCard
by
Shadowind_ErinCooper
Design unique
photo postcard
at zazzle.com
Rico:
What medium/tools do you use to create your designs?
Erin Cooper :
Most often I will draw a design out on regular white computer paper, and then scan it in and color it using Photoshop. I will sometimes work with solely traditional medium like color pencil or acrylic paint and then just scan or take a photo.
Rico:
What is your favorite aspect about Zazzle?
Erin Cooper :
I like how easy it is to design and post products!
Rico:
Who or what inspires you?
Erin Cooper :
Many things inspire me sometimes just little everyday situations or things. Other great artists certainly, to name a few I love the works of Susan Seddon Boulet, art by imaginism's Bobby chiu, Josephine Wall paintings, and sculptures by M. Pena… and many other great fantasy artists. However I am also influenced by wonderful books I may be reading or by dreams I might have, or nature herself. My fourlegged friends are often inspiration to me, as are my friends and family.
Rico:
How much time a week to you spend on Zazzle?
Erin Cooper :
It can very quite a lot depending on my mood, how inspired I feel, the whether, how distracted I get by other things during the week. It can be anywhere from a couple hours every day all week long, to getting on and spending almost all day designing or on zazzle creating products a few days in a row until I am burned out on it.
Rico:
What's the best advise you can give someone just starting out on Zazzle?
Erin Cooper :
Try to stay active online, even if it's just to get on and comment on other products you like or add a little update on your main page and change the featured products for the season it is. Advertise as much as you can by joining other art websites and linking back to zazzle, places like deviant art and forums and groups. When you comment on others art be very genuine, try to pick out what it is you like about the art and why and say so instead of a simple "this is great!" Also never forget to always keep learning!
Rico:
What do you like to do when you are not creating art?
Erin Cooper :
When I am not drawing if the weather is nice I like to be outside, I love to hike in the woods, and garden. If the weather is not nice (snow and cold) I like to read, mostly fantasy novels but some new age and spirituality type stuff occasionally too.
I also hang out with and take care of my four legged furred and or feathered family including my horse, Cricket.
Rico:
For most each product or design they create is special. What is your most favorite design and why (include link)?
Erin Cooper :
I try to come up with new designs all the time and the more I post the more favorites I end up having...but at the moment I think my most favorite design is my "learning the ways" dragon design
Learning the Ways~ mug
by
Shadowind_ErinCooper
Make a
personalized mug
on zazzle.
I think its one of my favorites now, because I got this design on one of my own hoodies for Christmas and it turned out really well and is so comfortable, I wear it all the time. I also like the mystery and magic surrounding the little dragon and how he seems more like an intelligent character rather than just a fire breathing monster. I try to put a lot of thought into the creatures I draw and design and what their stories might be behind them so they are more interesting to look at.
Rico:
Tell me 5 random things everyone should know about you?
Erin Cooper :
I am always trying to become a better artist and person
I can't stand people who disrespect or are outright cruel to animals
I try my best to live in the moment
I am a really quiet person and very introspective
I would like to live in and earthship someday
Rico:
Include links to 3 of your favorite designs you want me to feature. Tell me something about each design.
Erin Cooper :
Learning the Ways~dragon shirt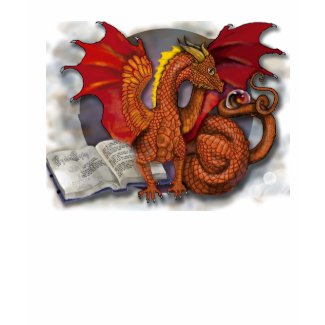 Learning the Ways~dragon shirt
by
Shadowind_ErinCooper
Create your own
personal t-shirts
online at zazzle.com
I have this one on a dark blue hoodie I got at Christmas and it prints out great! I'm going to be doing the dragon in different colors soon too because my brother wanted this same design with a green dragon. I like to think of dragons as having their own intelligence and culture rather than just being scary vicious monsters. In my opinion dragons like many real reptilian creatures sometimes get a lot of bad press they don't deserve and are often cast as the enemy or villain in stories so in my work i try to depict them a little differently. This dragon is study on different types of magic specifically crystal gazing.
Different! Upside Down Owl Greeting Card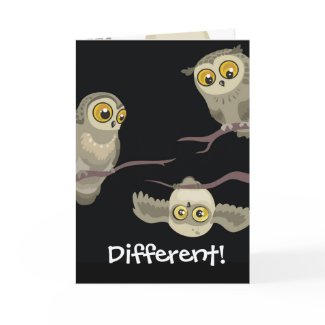 Different! Upside Down Owl Greeting Card
by
Shadowind_ErinCooper
Get unique
custom made cards online
at zazzle.com.
A lot can be said of being proud to be different and unique! I believe in keeping an open mind at all times and find value in what many call weird or unusual, i think we should celebrate these sorts of differences don't you? This little owl design is and adorable way to do just that!
Toadstools~ jar candy jars
Toadstools~ jar
by
Shadowind_ErinCooper
See more
Toadstool Candy Jars
I just love how these mushrooms turned out, I see mushrooms when I walk in the woods all the time and they are just fun to look at and draw aren't they? Plus they are surrounded in faery lore and mythology. I watched this program about fungi that told how certain shelf mushrooms can be used to clean up oil spills. I think fungi are fantastic and under rated, people are leery of them because they have been used as psychedelics but I think everyone should learn a little more about them!
Rico:
If you could purchase ANY item (of someone else's) what would it be? Why?
Erin Cooper :
The Great Feline Mouse Pads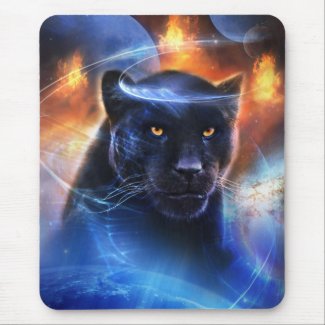 The Great Feline
by
Philip_Straub
Create own mousepad
on zazzle.
There are lots of other zazzle artists designs and products I like a lot, it would be really hard to choose just one! If you really want to see all the stuff I like check out my wishlist/likes on my profile page :D ;)
Rico:
Zazzle has helped many people meet goals that they otherwise wouldn't have achieved. What has Zazzle helped you to achieve in your personal life?
Erin Cooper :
Well currently I don't have a steady job doing anything else. I do freelance art jobs when I can find them, but Zazzle has helped me to earn some cash since graduating and to feel like I am continuing my art career even though I am otherwise unemployed.
Rico:
Where else can our readers find you online? (Facebook, Twitter, other blog or website)
Erin Cooper :
Deviant Art
Twitter
Facebook
Elfwood
(this one doesn't get updated much)
Webs page
Rico:
Anything else you'd like to share?
Erin Cooper :
Readers please check out my friend's shop too if you have time!
Tee Freak - Unique and Fun T-Shirts
To see more of Erin's wonderful art visit ShadoWind Original Art By Erin Cooper