Rico:
What is your favorite aspect about Zazzle?

Fliss :

I think my favorite aspect about Zazzle is being able to sell to people worldwide on quality products with out all the hassle of packing, printing posting etc.


Rico:
Who or what inspires you?

Fliss :

I get inspiration from everything and everywhere, I study what's in and what's out, what designs are on the High Street, in magazines etc and of course I check out what everyone else is doing on Zazzle for ideas then try to put my own interpretation on them.


Rico:
What's the best advise you can give someone just starting out on Zazzle?

Fliss :

My advise to anyone starting on Zazzle is to put as much effort into your shop and designs as you can and don't put a couple of designs on a few products then just sit and wonder why you have no sales. The more designs and products you have the more chances you have of getting a sale.


Rico:
What was the latest product you added to your wish list (include link)?

Fliss :

The last thing I added to my wishlist was a Pink Fantasy Fairy with big eyes, I love this style of design and keep practicing in the hope that one day I will be able to produce something like this.



Pink Lightning fantasy fairy Art Print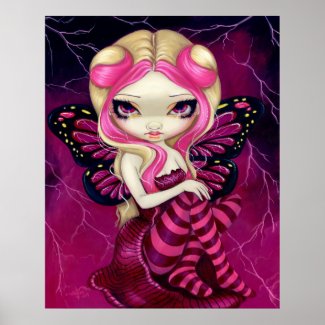 Pink Lightning fantasy fairy Art Print
by
strangeling
Find other designs of Art &
Posters
at Zazzle.com
"Pink Lightning"! She is a striking one (no pun intended!). Brilliant pink lightning flashes in the stormclouds surrounding her - big eyes crackling with energy - her pink and blonde hair swirling in the wind - I love this painting! Made from my own original acrylic painting.
Rico:
Tell me 5 random things everyone should know about you?
Fliss :
I have two grown up daughters and 5 grandsons who I adore
I love cheese especially when it's with wine
I don't go to church except for funerals, weddings and christenings but I definitely believe in god and pray everyday
I hate violence and wars
Rico:
What do you like to do when you are not creating art?
Fliss :
I have a part time job processing orders and bookkeeping so that keeps me busy but when I get some free time I am quite content to just be with my partner/family and relax.
Rico:
Include links to 3 of your favorite designs you want me to feature. Tell me something about each design.
Fliss :
Wow which one's should I choose, the last one I did is always my favorite but I do a new one at least once a day but if I am being put on the spot then my first one will be my Indian Chief design which is my own original design.
Indian Chief Art Print Poster
Indian Chief Art Print Poster
by
Flissitations
Find more Indian man Posters at
Zazzle
A Striking Design of an Indian Chief in his feathered headdress, he would command your attention where ever you hang him.
Then for my second choice it will be my very own cute little whimsical chick ducks
Cute Whimsical Chick Ducks Nursery Poster Print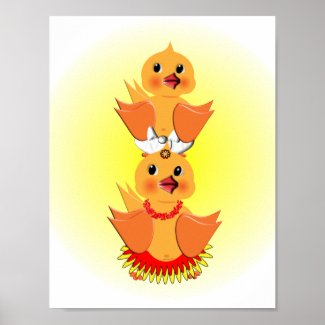 Cute Whimsical Chick Ducks Nursery Poster Print
by
Flissitations
Find additional
posters for sale
at Zazzle
Such a cute picture this whimsical design, two little duck chicks in yellow and orange. A great poster print for a nursery or kids room, why not add a name by clicking on customize and adding text - there's no extra charge.
and last but not least my red and black lacy damask style Wedding Invitations
Red Black Lace Damask Wedding Invitation
Red Black Lace Damask Wedding Invitation
by
Flissitations
Check out other
invitation templates
at zazzle.com
Rico:
Zazzle has helped many people meet goals that they otherwise wouldn't have achieved. What has Zazzle helped you to achieve in your personal life?
Fliss :
So far Zazzle has helped towards buying Christmas gifts for the family but looking forward a few years I am hoping that it will help me to retain a good standard of living when my partner and I reach retirement age and of course give me something to occupy my mind.
Rico:
Where else can our readers find you online? (Facebook, Twitter, other blog or website)
Fliss :
I have two facebook pages
Facebook - Flissitations Crafty Creations
Facebook - Personalized Luxury Wedding Invitations
I have a blog -
Flissitations Crafty Creations
I am on Twitter -
@Finkorzak
Visit Fliss Braham's other stores;
Mens Fashion Ties
Cool Phone Case Place