Kara Stewart - artinphotography
Rico:
What's Your Name ?
Kara Stewart
Rico:
List your shop(s) -
Kara Stewart:
artinphotography
Rico:
How long have you been at Zazzle?
Kara Stewart:
I opened my shop on zazzle in mid-April, 2011, so I've only been a 'zazzler' for a little over four months.
Rico:
Are you a ProSeller?
Kara Stewart:
No, I'm not a ProSeller yet, but I hope to be in the near future!
Rico:
What's the best advise you got when you were starting out?
Kara Stewart:
The best advice I got when I was starting out was to read, read, read! There is so much information for new zazzlers in Zazzle University and the forums, and it is extremely helpful when starting out. The forums are a great place to meet other zazzlers, and the New to Zazzle thread is particularly helpful.
Rico:
What medium/tools do you use to create your designs?
Kara Stewart:
My art is photography and all my designs are based on my original images. I use a Nikon D300 DSLR and Photoshop CS5 and Corel's Paint Shop Pro Photo for editing. I create 'straight' images, images using editing software and textures, and I just love to use images for their color and create abstract designs from them too!
Rico:
Who or what inspires you?
Kara Stewart:
I am inspired not only by just life all around me, but by other photographers. There are a number of excellent photography sites and forums out there, and a ton of inspiring images. I find that when I browse through other people's images, I get ideas for my own images, as well as inspiration to try new techniques and learn new things. I belong to the smugmug daily community (www.smugmug.com and their Daily Photos), where there are tons of supportive photographers and also Digital Grin with their extremely talented photographers. And I subscribe to or keep up with a lot of photography blogs such as Light Stalking and Digital Photography School. My real life interests inspire what I shoot: dog images are just about tops with me, Native American images and designs (I'm a Native crafts person member of the Indian Arts & Crafts Association), flowers and nature, food photography and rural scenes and images.
Rico:
How much time a week to you spend on Zazzle?
Kara Stewart:
This summer I had an unplanned hiatus from working and so was able to spend significant amounts of time daily on designing zazzle products and marketing them – probably 12 – 14 hours a day. But I have since returned to work full time, I am now only able to spend an hour or two each evening during the week on zazzle (if I am not too tired!) as well as all day Saturday and Sunday.
Rico:
What's the best advise you can give someone just starting out on Zazzle?
Kara Stewart:
I'd give someone starting out on zazzle the same good advice that I was given – read, read, read about zazzle! Spend a significant chunk of your beginning time reading through the forums and the tutorials on Zazzle University.
Rico:
What do you like to do when you are not creating art?
Kara Stewart:
I feel like I am always creating art (except when I am at work)! My other creative love besides photography is writing. I am fortunate to have made a number of writer contacts and I love to keep up with them and what they are writing in addition to my own writing. Aside from that, I read and love to dote on and play with my Golden Retriever, Samson. If I ever have the time and money, I intend to travel anywhere and everywhere!
Rico:
Tell me 5 random things everyone should know about you?
Kara Stewart:
I love chocolate cheese pie and the sound of the ocean, although I'd rather vacation in the mountains than at the beach, I secretly love to watch the 'judge shows' on tv and I wanted to be an astronaut when I was little.
Rico:
What are 3 of your favorite designs? Tell me something about each design.
Kara Stewart:
Your Own Dog's Picture Golden Retriever Dog Breed Mug
Your Own Dog's Picture Golden Retriever Dog Breed
by
artinphotography
make money as an artist
using Zazzle.
One of my favorite designs are my Your Own Dog's Picture Dog Breed mugs. I designed these so that you can easily drop in your own canine love's image on one side and have breed information on the other side. I currently have these available in Golden Retriever, Labrador Retriever, Yorkshire Terrier, Boston Terrier, Rat Terrier and French Bulldog. I love these because they would be so easy to make a truly memorable gift for your favorite dog lover.
Night Camellia Greeting Card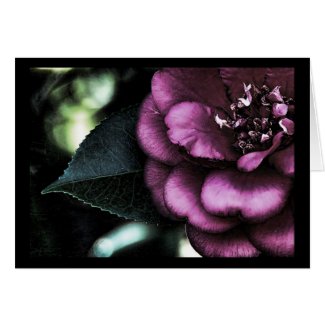 Night Camellia
by
artinphotography
Join Zazzle's
artist affiliate program
Another one of my favorite designs is Night Camellia . I took this on a trip to North Carolina State University's Raulston Arboretum in the spring. So many gorgeous blossoming plants! I processed it using Topaz Adjust's Night filter.
Candy Corn iphone4 Case
Candy Corn iphone4 Case
by
artinphotography
Browse more
iphone 3 cases
And I just love my Candy Corn design! I am big lover of autumn with its candy corn, apples, red leaves and pumpkins!
Rico:
Where else can our readers find you online?
Kara Stewart:
Other places I am on line include my blog,
Kara Stewart, Art in Photography
where the emphasis is on creative passions and the convergence of photography and writing.
my Facebook fan page,
Kara Stewart, Art in Photography
and on twitter
@artinphotgrphy
Or you could just go to my
about.me
page to access all my locations!
Kara Stewart, Art in Photography
An online photography gallery and shop