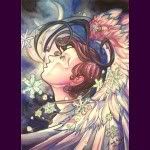 Arwen De Lyon of Artsy Arwen De Lyon's Store
Rico:
What's Your Name?
Arwen de Lyon
Rico:
List your shop(s) -
Arwen de Lyon :
Artsy Arwen De Lyon's Store
Rico:
How long have you been at Zazzle?
Arwen de Lyon :
1 year
Rico: Are you a ProSeller?
Arwen de Lyon :
No
Rico:
What's the best advise you got when you were starting out?
Arwen de Lyon :
Promote both online and offline, and feed the money you make from your store back into your store. Be patient, and don't expect to make a ton of money right away. this is a marathon, not a sprint.
Rico:
What medium/tools do you use to create your designs?
Arwen de Lyon :
Watercolor and ink pen.
Rico:
Who or what inspires you?
Arwen de Lyon :
Jody Bergsma and Alphonse Mucha inspire me because of thier vision, distinct style, and sense of beauty and wonder.
Rico:
How much time a week to you spend on Zazzle?
Arwen de Lyon :
About 20 hours.
Rico:
What's the best advise you can give someone just starting out on Zazzle?
Arwen de Lyon :
Jump on the zazzle forms, and don't just read them, be an active participant. Join other sites to network that are related to what your shop is about, and be an active participant. Tell everyone about your zazzle shop, as you never know who will stop by. Always be ready to learn something new, and try new things.
Rico:
What do you like to do when you are not creating art?
Arwen de Lyon :
I like to do other things to fuel my creativity. Read books about things I love: stories, astronomy, angels, you name it. If I have painted it, you can bet I have studied and read about the subject first. I also like to watch interesting shows about science and hands-on shows, or even funny sitcoms that I find especially creative or offbeat. Going on trips to new places whether right in town or a good distance away also fuels my creativity, as does watching movies. I also enjoy making challenging origami with beautiful origami paper in fantastic designs.
Rico:
Tell me 5 random things everyone should know about you?
Arwen de Lyon :
I love science fiction and fantasy
I think the world needs more art in every aspect of life
I love cats
I require chocolate on a daily basis
and my dream is to travel the entire world
Rico:
List 3 of your favorite designs you want me to feature. Tell me something about each design.
Arwen de Lyon :
The Zodiac Calendars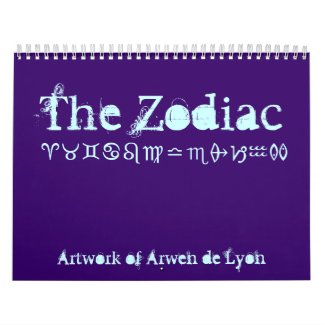 The Zodiac
by
Arwen_deLyon
Browse other
The zodiac Calendars
This calendar is a compilation of all my zodiac paintings, presented beautifully in this calendar which has a celestial feel, and includes symbols for each zodiac sign and celestial body of modern astrology.
Unicorn, Universe Personalized Necklace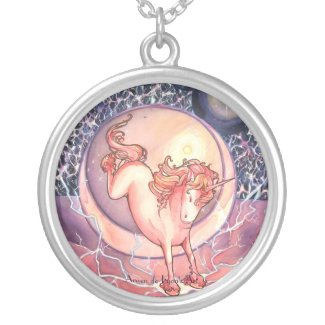 Unicorn, Universe
by
Arwen_deLyon
Browse more
Unicorn Necklaces
This Unicorn painting is set off well by the circular shape of the necklace. The unicorn represents pure understanding and awareness, as she gallops across the universe.
Fantastic City Posters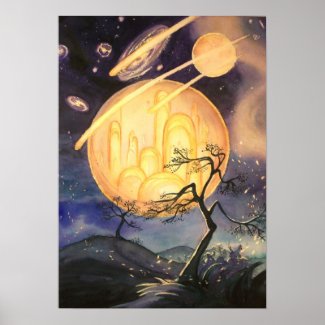 Fantastic City
by
Arwen_deLyon
Find more
matted prints
One of my favorite watercolor paintings, based on a finished fantasy sketch I did a few years back. The globe in the sky is an otherworldly etherial city, and surrounding it are numerous beautiful celestial bodies.
Rico:
This is one of my personal favorite designs from your shop
Alternate World 1 Poster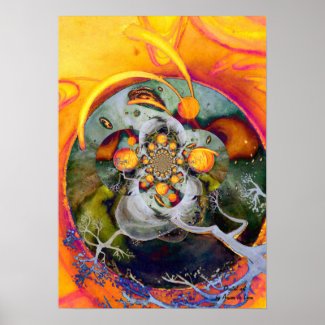 Alternate World 1
by
Arwen_deLyon
View other
Digital art Posters
A digital abstraction of Phsychedelic City, I used the kaleidoscope effect to give this swirling, otherworldly feel. The brilliant, psychedelic colors and swirls heighten this effect.
Rico:
I absolutly love the colors and composition in the design! It is definately something I would hang on my wall in my office.

Rico:
Where else can our readers find you online?

Arwen de Lyon :
Facebook
Twitter
Shadowness