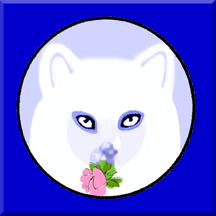 Animal Lane Gift Shop
Rico:
What's Your Name?
Marian Cates
Rico:
List your shop(s) -
Marian Cates :
Animal Lane Gift Shop
Animal Lane is filled with cats, dogs and wild animals. This is my largest shop and has been the most fun to work on. I love animals and have had many pets over the years. A photo of my current pet Albie, a Miniature Poodle, is in this shop and in Ocicat Studio.
Victorian Girl Gift Shop
Victorian Girl is set in the last quarter of the 19th century in America and England. I love this period and learned a lot about it while researching for a novel for young people that I expect to publish next year. Since the novel is about a Victorian girl, that's where the name came from.
Games Gift Shop
My original plan for the Games Gift Shop was to have a shop with only text jokes on tees, but I got bored and soon it was filling with paintings of children's toys and games, as well as adult card games.
Special Occasions Gift Shop
Since special-occasion products seem to sell so well on Zazzle, I created this shop to focus on special occasions and holidays. There are paintings and photos for all the major holidays and main special occasion categories.
Bonsai & Haiku Gift Shop
Although I've never owned a Bonsai Tree, I think they're lovely. Of course, Bonsai trees come from the Japanese culture. It seemed a natural extension of my shop to add traditional Japanese Haiku verses.
Ocicat Studio Stationery
This shop offers my best paintings and photography on posters and cards with matching envelopes and postage stamps. It is named after my "Ocicat Studio," where I show my art and photography. The Ocicat is a tabby that has the markings of an ocelot. I love tabby cats and have had two as pets.
Rico:
How long have you been at Zazzle?
Marian Cates :
According to the Forum, I've only had Z shops since 11-7-2009. I was thinking of all the time I've had online shops. I started at Cafepress.
Rico:
How long did it take you to become a ProSeller from when you started?
Marian Cates :
It took 5 years to get the title and about 2 years to reach that status.
Rico:
What benefits, if any have you personally seen since reaching ProSeller status?
Marian Cates
My sales have been increasing incrementally. I credit that to improved titles, descriptions and tagging.
Rico:
Has becoming a ProSeller change the way you market you shop?
Marian Cates :
No.
Rico:
What's the best advise you got when you were starting out?
Marian Cates :
Only show your best work. I got this advice from the Fine Art Views newsletter. This means that you either have to improve your paintings as your skill improves or drop the paintings from your shops and studios. Although this has slowed me down a bit, I'm glad I did it. I want to feel confident about the artwork and photos I have in my shops and I want them to represent my best work. I would hate it if a customer bought a product with my artwork or photo on it and found it disappointing because it didn't print properly.
Rico:
What medium/tools do you use to create your designs?
Marian Cates :
I use Adobe Photoshop.
Rico:
Who or what inspires you?
Marian Cates :
My inspiration comes from so many sources. Ideas come to me all the time. My challenge is to select the inspiration I'm going to work with for my shops. For Animal Lane, of course, the inspiration comes from the natural world. For Victorian Girl, I was inspired by my research into this period.
Rico:
How much time a week to you spend on Zazzle?
Marian Cates :
For 3 years I spent about 10-16 hours a day. Then I began to spend less time, so that I could have a life! I average about 3 hours a day right now, as I'm taking a bit of a break. But I expect to work on the shops about 5-6 hours a day once my break is over.
Rico:
What's the best advise you can give someone working toward ProSeller on Zazzle?
Marian Cates :
Devote special attention to descriptions and tags. No matter how good your artwork, photos and designs are, you won't sell them if your customers can't find them.
Rico:
What do you like to do when you are not creating art?
Marian Cates :
Read, write, email with friends, and watch streaming movies and TV shows on Netflix.
Rico:
Tell me 5 random things everyone should know about you?
Marian Cates :
1. I'm an introvert.
2. I'm slow to catch onto the obvious things in life and quick to grasp subtleties.
3. I've been an artist all my life.
4. I'm addicted to audiobooks.
5. I write fiction and musicals (music, lyrics and script).
Rico:
List 3 of your favorite designs you want me to feature. Tell me something about each design.
Marian Cates :
Sphinx Cat Case For The Ipod Touch
Sphinx Cat
by
digitalmwc
Join one of the largest
ipad affiliate programs
Ask the Sphinx cell phone case. It took me years to do a Sphinx painting that I was satisfied with. I'm happy with this guy, because his gigantic ears show up so well.
Toy Poodle in the Tulip Garden Postage Stamp
Toy Poodle In The Tulip Garden postage stamp. I had a Toy Poodle named Louie, whom I adored. This painting is inspired by him.
Pinkly Cat And The Missing Goldfish Mouse pad
Pinkly Cat And The Missing Goldfish
by
digitalmwc
Join Zazzle's
artist affiliate program
Pinkly Cat And The Missing Goldfish mousepad. This is one of the paintings that I had to completely re-paint. I love silly fantasy paintings, and what's sillier than a pink cat.
Rico:
This is one of my personal favorite designs from your shop
Gray Elephant At Sunset Dinner Plates
Gray Elephant At Sunset
by
digitalmwc
View more
plate
designs from Zazzle.
What an admirable animal the elephant is! So huge! We see him here at sunset.
Rico:
Love the elephant against the red sunset background.

Rico:
Where else can our readers find you online?

Marian Cates :

Facebook Fan Page (personal page is under my name.)

Twitter

e-zine "Art-Online"

Ocicat Studio

pinterest