Belinha Fernandes of A Portuguese Love
Rico:
What's Your Name?
Belinha Fernandes
Rico:
List your shop(s) -
Belinha Fernandes :
A Portuguese Love
I picked this name because at first when I created the store I wanted to sell Portuguese culture and tradition inspired designs. My first choice was A Portuguese Girl but there was already a store with that name in the POD universe. So I gave it up and picked this one instead. Then I thought it was a mistake because I do not sell ONLY those kind of products and it might disencourage people to take a look.
Papelustro
When we were children we all played with safe scissors and colorful paper. In Portugal we call Papel (Paper) de lustro (polish) to a kind of thin, glossy and colorful paper that children use in kindergarten and elementary school to make collages and paper cut works. Today there are a lot more attractive materials than these sheets of red, yellow, blue, brown, black and gray paper. So papel de lustro is somehow forgotten by educators. And that's the origin of my name, Papel+lustro. This store was created to sell copies from my original collages that can be seen at http://www.papelustro.blogspot.com. All collages are made from magazine scraps and papel de lustro. People asked me copies of those blog collages and that's how I discovered Zazzle.
Rico:
What type of product do you sell the most of?
Belinha Fernandes :
The products I sell the most are birthday party invitations and souvenirs from Portugal at A Portuguese Love. My Papelustro postcards also sell well but this store has just a few products.
Rico:
How long have you been at Zazzle?
Belinha Fernandes :
I've been on Zazzle since March 2009. I opened Papelustro first. Then I opened A Portuguese Love in October of the same year.
Rico:
How did you find Zazzle?
Belinha Fernandes :
I knew about POD possibilities for some time before I tried Zazzle. I just made a search on the web and examined all POD available. I liked Zazzle more.
Rico:
Are you a ProSeller?
If yes, how long from the time you open a shop until you made it to ProSeller?
Belinha Fernandes :
Yes, A long time! I got my badge last year on December 2011. My stores were inactive for a long periods in the first two years, I think people can made ProSeller much earlier, don't feel discouraged when you read this.
Rico:
What made you decide to open your own store?
Belinha Fernandes :
I have a blog where I post paper collages. Many people asked me if the collages were for sale. They were not and I did not want to sell it. So I needed a way to make prints of those collages so I could sell it. That's why I decided to open my first store, Papelustro.
Rico:
What's the best advise you got when you were starting out?
Belinha Fernandes :
A few experienced Zazzlers told me that Zazzle was like any other business out there and that if I was expecting to make some money out of it I should work hard in creating and promoting the store. I should think first about my clients needs and not myself. If I was just there for the fun then I could relax and take it easy. This is true and today I can give the same advice to anyone who is starting out.
Rico:
What was your first sale?
Belinha Fernandes :
I don't remember anymore!
Rico:
What medium/tools do you use to create your designs?
Belinha Fernandes :
All work on the stores is original work. I create Papelustro's illustrations with paper and glue and then I finish it on Photoshop. A Portuguese Love has some photos and vector work that I create in several programs like Illustrator, Corel Draw or Freehand.
Rico:
What is your favorite aspect about Zazzle?
Belinha Fernandes :
I think that the possibility for people to customize products is absolutely fantastic.
Rico:
Who or what inspires you?
Belinha Fernandes :
Children world inspires me a lot. I like to use happy colors and shapes. I try to create simple and clean designs. Some lines of products are inspired by traditional Portuguese culture and traditions. They will appeal to Portuguese but also to everyone who's fond of Portugal or to the ones who simply like pretty things. Papelustro shows a kind of more experimental work but there's a strong connection to the child universe in my characters too.
Rico:
How much time a week to you spend on Zazzle?
Belinha Fernandes :
It depends. Last Christmas I spent most November nights and weekends working in my Christmas collection! It takes a lot of time to create from scratch, upload and choose the proper keywords to Zazzle. Whenever I have some free time I create a new drawing for Zazzle or promote a little. Instead of watching TV I work for Zazzle. That's what I do.
Rico:
What's the best advise you can give someone just starting out on Zazzle?
Belinha Fernandes :
Maybe it's the same advice that was given to me. Prepare for work hard. Even if you love to create there will be times when you feel overwhelmed by the amount of work. Zazzle means you have to work in creation and promotion. The work is never done! But if you love to create then you can expect to be rewarded in a lot of ways. I love selling my art work to person miles away. It still makes me go WOW! Each time it happens.
Rico:
What do you like to do when you are not creating art?
Belinha Fernandes :
Besides working for my store and blogging about it I enjoy movies a lot and never miss an afternoon end at the beach in the summer. I do copy work, illustration and I also teach people how to use graphic software.
Rico:
For most each product or design they create is special. What is your most favorite design and why?
Belinha Fernandes :
Free a story - read a book! postcard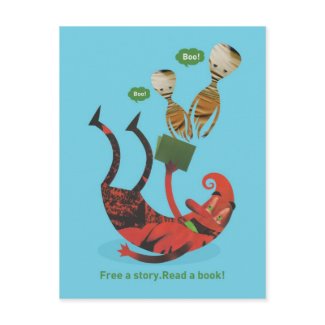 Free a story - read a book!
by
papelustro
View other
Literature Postcards
This is one of my collages. I believe it's one of my best works. I find this postcard really special. Maybe because I like reading and books so much.
Rico:
Tell me 5 random things everyone should know about you?
Belinha Fernandes :
I'm Portuguese and proud of my country even if we're facing such hard times in Europe right now
my passion is graphic arts even if I went to Law school in the past
I love animals and nature
I live by the sea and can't imagine otherwise
I like to read poetry out loud (for myself)!
Rico:
Include links to 3 of your favorite designs you want me to feature. Tell me something about each design.
Belinha Fernandes :
Portuguese Rooster of Luck Christmas Ornaments
O Galo de Barcelos - Barcelos's Rooster- is the unofficial symbol of Portugal. Many shops sell the traditional ceramic rooster all over Portugal. It's associated to a legend and it stands for good luck because the rooster crow saved a prisoner from death. It's lively colors bring happiness to every home. If you want to wish good luck to someone offer the very special Portuguese Rooster of Luck!
Secondhand smoke catching machine! mouse pads
As you might already know exposure to secondhand smoke is associated with an increased risk for lung cancer and heart disease in nonsmoking adults, and it increases the risk for sudden infant death syndrome, bronchitis, pneumonia, and other serious respiratory conditions in children. So we should not underestimate secondhand smoke presence. These cute products were created to raise awareness about it among children and families.
The 12 Signs of Zodiac Note Books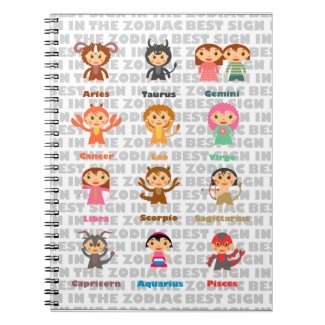 The 12 Signs of Zodiac
by
aportugueselove
Browse Zazzle for a different
spiral note book
The word Zodiac means animals and refers to the configurations of creatures as seen in the twinkling stars at night. Astrology has been used by many civilizations for thousands of years. Some believe it, some don't. But everybody knows their sign! I created a collection of cute Zodiac Sign characters for kids. But I guess adults might like it too!
Rico:
Here is one of my favorite designs of yours;
Hello Pirate! T-shirts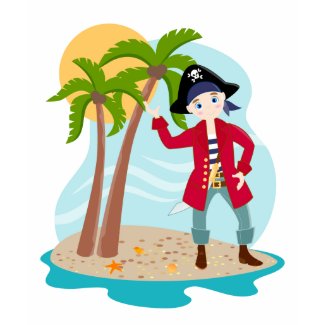 Hello Pirate!
by
aportugueselove
Put your favorite
picture on shirts
.
Rico:
Very cute pirate design!

Rico:
If you could purchase ANY item (of someone else's) what would it be? Why?
Belinha Fernandes :

That's an impossible answer. I see so many wonderful creations at Zazzle! Anything from Hand Critters. This was the first store I remembered. It's an injustice to all those I like too! This guy uses the simple shape of his hand to create all the designs. It's so creative. It's so simple and it works so well!
Rico: I chose this one for you
Hand Alligator Infant Creeper
Hand Alligator Infant Creeper
by
handcritters
View more
Alligator T-Shirts
Rico:
Zazzle has helped many people meet goals that they otherwise wouldn't have achieved. What has Zazzle helped you to achieve in your personal life?
Belinha Fernandes :
Zazzle has helped many people meet goals that they otherwise wouldn't have achieved. What has Zazzle helped you to achieve in your personal life?
I have always wanted to sell my illustrations to others. Sometimes I still can't believe that I am doing it!
Rico:
Where else can our readers find you online?
Belinha Fernandes :
Twitter
Blog
Facebook
Google +
Rico:
Anything else you'd like to share?
Belinha Fernandes :
Zazzle has been a good experience also because I've been making some virtual friends all over the world.
And my thanks to Rico for this opportunity!
Rico:
It's my pleasure!