Boriana Giormova
Rico:
What's Your Name?
Boriana
Rico:
List your shop(s) -
Boriana
I have two shops. The first
Cute and Strange Creatures Store
I love to create characters and all kinds of creatures - cute, strange, evil, lovely. The designs in the store are made with these creatures, hence the name.
My second store is
Borianagpenci
and I have just started building it. It's the store where I sell cards, prints and magnets with my pencil drawn illustrations. The pencil drawn artwork style is different from the more polished, digitally made illustrations, so I felt the need to separate the stores.
Rico:
How long have you been at Zazzle?
Boriana
I have been with Zazzle from August 2007, but just recently became more consistent in creating products and managing the store.
Rico:
How did you find Zazzle?
Boriana
It's been so long ago that I don't remember very well. I think it was through Deviantart, which I was using a lot at that time.
Rico:
Are you a ProSeller?
If yes, how long from the time you open a shop until you made it to ProSeller?
Boriana
Yes, I've just become a Proseller, 5 years after joining Zazzle.
Rico:
What made you decide to open your own store?
Boriana
I was very excited by the idea of making money from my art, so I decided to give it a try.
Rico:
What's the best advise you got when you were starting out?
Boriana
The best advice by far was to be consistent in creating quality products and to read and write in the Zazzle forums - there is a huge amount of useful information there, as well as many people who are promoting as well as creating wonderful products.
Rico:
What was your first sale (include link)?
Boriana
My first ever sale was of the Dazzled Bug kid shirt which turned out to one of the all time bestsellers from my store.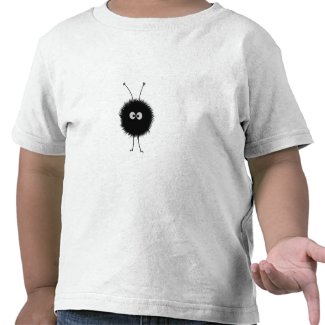 Dazzled Bug kid
by
borianag
Make
photo tshirts
from Zazzle.
Rico:
What medium/tools do you use to create your designs?
Boriana
I first sketch the idea with a pencil and paper. Then I make photos of the sketches and create the final image in Illustrator. At the end I import the file in Photoshop - whether to add a texture or just save the final file.
Rico:
What is your favorite aspect about Zazzle?
Boriana
My favorite aspect about Zazzle is the opportunity to see my designs as they will look on the products and the fascinating thought that someone somewhere is wearing/using/enjoying something created by me.
Rico:
Who or what inspires you?
Boriana
There's inspiration everywhere around me. I love to look at projects in Behance.net, art and design blogs. I read a lot of books and sometimes the images just pop and they're so vivid that I have to draw them. My kids are great idea generators, too: "Mom, this is a funny dinosaur. Now let's see it fart." :)
Rico:
How much time a week to you spend on Zazzle?
Boriana
As a stay at home mom of two, I spend almost all of my free time creating artwork or products - that's about 40 hours a week, maybe.
Rico:
What's the best advise you can give someone just starting out on Zazzle?
Boriana
Create products daily, try to think as someone who will buy and use them. Use the Zazzle forums and social networks for promotion because even if you offer the greatest products in the world, there is no use if people can't see them.
Rico:
What do you like to do when you are not creating art?
Boriana
I love spending time with my husband, playing with the kids, playing video games, browsing, reading, listening to music...
Rico:
For most each product or design they create is special. What is your most favorite design and why (include link)?
Boriana
My most favorite item designed by me is the Happy Singing Robot Grunge mousepad. I love robots so much and this one has become something as a long-time friend of mine. It's a bit silly and funny and it's a very, very friendly one.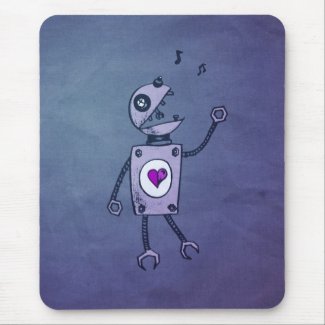 Happy Singing Robot Grunge
by
borianag
Make your own mouse pad
on zazzle.
Rico:
Tell me 5 random things everyone should know about you?
Boriana
First: I have a good sense of humor.
Second: I'm a painful perfectionist (trying to loosen it up a bit).
Third: I love science - and have a master's in Pharmacy and a will have soon a second one in Graphic design.
Fourth: I worry too much.
Fifth: I need listening to music as I need breathing.
Rico:
Include links to 3 of your favorite designs you want me to feature. Tell me something about each design.
Boriana
Dazzled Bug blue iPod Touch case
Dazzled Bug blue iPod Touch case
by
borianag
Design
custom i phone covers
at Zazzle
This design turned out to be a big seller during the recent Christmas holidays. It features the fluffy Dazzled Bug - a cute character I made a long time ago for a site we made with my husband.
Happy Singing Robot Grunge Mouse Pad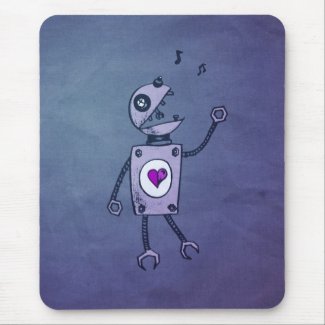 Happy Singing Robot Grunge
by
borianag
See other
Robot mousepad Mousepads
It's a blue paper textured mousepad with a funny singing robot. I love robots and I frequently draw them, though I haven't created enough products with them yet.
Red Evil Flower Bug T-shirt
This bug is evil and at the same time cute, holds a flower while grinning and is a lovely funny creature.
Rico:
If you could purchase ANY item (of someone else's) what would it be? Why?
Boriana
Piggy mouse pad
piggy mouse pad
by
fawnbaby
Make unique
custom mouse pads no minimum
at Zazzle.
I absolutely love this Piggy mousepad the illustration is great and it's so funny.
Rico:
Zazzle has helped many people meet goals that they otherwise wouldn't have achieved. What has Zazzle helped you to achieve in your personal life?
Boriana
Zazzle has helped me to make the decision that I will do what I love to do.
Rico:
Where else can our readers find you online?
Boriana
I have a blog -
My Grinning Mind
where I present the various things I create, I've also made some desktop and iPhone wallpapers with the creatures which can be downloaded from the blog. I share a lot of interesting things I've seen or read on Twitter - I
@borianag
. I also love Pinterest and use it daily
Boriana Pinterest
it's a wonderful tool for collecting and organizing inspiration.