Art By Mar
Rico:
What's Your Name?
Margie Rennick
Rico:
List your shop(s) -
Margie Rennick :
Art By Mar
Art by MAR is a combination of my original artwork and my collection of old vintage images. I like use a variety of subjects when I create my art so my shop has many themes. I like painting animals, fantasy creatures such as fairies and mermaids, abstract, folk art ladies, and one of my favorites Halloween and Spooky themes. I mainly create my art using acrylic paints and colored pencils. I had so many beautiful vintage images that I decided to include these in my store also. So I have a little bit of everything included in Art by MAR. I chose the name of my store as Art by MAR because when I first opened it was only my original artwork and the MAR is my initials which I had been using to sign my originals.
Rico:
What type of product do you sell the most of?
Margie Rennick :
As my store has grown I have been selling a wide variety of different products. I create just about every type of product Zazzle offers. One of my best selling products however is still postcards. Even in this electronic age people still like to send them plus it is also an affordable way to collect small pieces of artwork.
Rico:
How long have you been at Zazzle?
Margie Rennick :
I have been at Zazzle from almost the beginning. I opened my store in 2007.
Rico:
How did you find Zazzle?
Margie Rennick :
I learned about Zazzle through an artist community website called Wet Canvas. Many of the artists there were using Zazzle. I had recently begun selling my artwork and decided to try it out.
Rico:
Are you a ProSeller?
If yes, how long from the time you open a shop until you made it to ProSeller?
Margie Rennick :
Yes I am a ProSeller since July 2011. So it was exactly 5 years since I opened my store in July 2007. However it really was 2010 when I started devoting much more time and effort into my Zazzle store. So anyone hoping to attain ProSeller status should not be discouraged by the 5 year range.
Rico:
What made you decide to open your own store?
Margie Rennick :
I was searching for outlets to sell my artwork online. Many other artists in the Wet Canvas community recommended Zazzle. After checking out the Zazzle site and doing some research I decided to open my store.
Rico:
What's the best advise you got when you were starting out?
Margie Rennick :
Other than some suggestions from other artists using Zazzle I did not really get much advice when I first opened my store. This was mainly because I did not read and participate much in the Zazzle Shopkeeper forums. When I started putting more time and effort into my store a few years ago I discovered the forums. There are many experienced Zazzlers on the forums willing to help out and give advice. The best advice I learned from the forums was to write good descriptions, use good tags, and create new products frequently so you can be found in the search. Once I did these three things my sales started to increase.
Rico:
What was your first sale (include link)?
Margie Rennick :
My first sale was a Valentine's Day Greeting Card. It is my original artwork of a purple cat surrounded by candy hearts.
Candy Heart Purple Valentine Cat Greeting Cards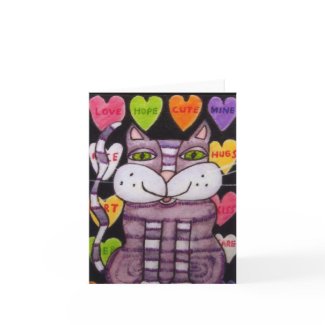 Candy Heart Purple Valentine Cat Greeting Cards
by
artbymar
Browse other
Cat Cards
Rico:
What medium/tools do you use to create your designs?
Margie Rennick :
To create my artwork I use both acrylic paint and color pencils. I have also done some computer creations which is relatively new to me. I do use graphic programs to tweak my artwork so it fits nicely on Zazzle's products. But my favorite medium still remains color pencils.
Rico:
What is your favorite aspect about Zazzle?
Margie Rennick :
It is hard to pick just one favorite thing about Zazzle. It provides a great way for me to sell my art and images on so many products and therefore reach more people. I love that I can concentrate on designing and creating and not have to worry about the details of payments and shipping. Plus it is a great community of artists, photographers and designers.
Rico:
Who or what inspires you?
Margie Rennick :
I get inspired just by browsing around on Zazzle by all the great designs and artwork. Of course the Fall season is always a great inspiration for me, probably my most creative time because I love Halloween and the season in general.
Rico:
How much time a week to you spend on Zazzle?
Margie Rennick :
On average I spend about 5 hours per day working on my store. More if I am creating new artwork. I try to spend little time bursts throughout the day doing some promotion.
Rico:
What's the best advise you can give someone just starting out on Zazzle?
Margie Rennick :
You have to be prepared to work hard. Having a successful store is a combination of good designs and promoting your store. Make sure your designs fits nicely on each product you create. Take the time to write good descriptions and tags so you can be found in searches. Spend some time promoting your store on twitter, Facebook, blogs, whatever you enjoy and find that works.
Rico:
What do you like to do when you are not creating art?
Margie Rennick :
My other obsession besides creating art is genealogy. I have been researching my family history for many years and find it fascinating. So I can be found in libraries and cemeteries when I am not creating art.
Rico:
For most each product or design they create is special. What is your most favorite design and why (include link)?
Margie Rennick :
My favorite piece of artwork that I have created is a realistic colorful parrot that I did in color pencil. My work usually leans toward fantasy and folk art. So I am really proud of this one piece of realism. The original hangs in my family room, it is my family's favorite.
Colorful Macaw Parrot Drink Coaster
Rico:
Tell me 5 random things everyone should know about you?
Margie Rennick :
1. Love to hang out in musty old libraries and cemeteries
2. Love all animals (have 3 pets at home)
3. I was a history major in college—still LOVE anything to do with history
4. Love to Dance
5. Favorite holiday is Halloween, even keep some Halloween decorations up all year
Rico:
Include links to 3 of your favorite designs you want me to feature. Tell me something about each design.
Margie Rennick :
Colorful Fantasy Whimsical Owl Ceramic Tiles
This is a colorful whimsical owl I created using color pencil. It is one of my favorite because I love owls and love using bright colors in my art. I think he makes a cool fantasy owl.
Whimsical White Daisy Flower Pink Puzzle
Whimsical White Daisy Flower Pink Puzzle
by
artbymar
Browse more
Daisy Puzzles
I painted this white daisy in acrylic paints. For being such a simple design it turned out to be a favorite because it is so bright and gives a happy feeling. I prefer flower paintings in my house to actual plants which I have a tendency to neglect and kill!
Creepy Skull Tree Beware Sign Bats Ipad Sleeve
I love creating Halloween art and in particular love doing all sorts of Skulls. This is a favorite because he is unique being a "Skull Tree". I always get very inspired around the Fall season with all the spooky Halloween decorations.
Rico:
If you could purchase ANY item (of someone else's) what would it be? Why?
Margie Rennick :
Macha Poster
Macha Poster
by
octoberwitch
View other
Pagan Posters
I love this poster of a beautiful witch with a raven, it is on my wish list. I love crows and ravens and have used them as a theme to decorate my bedroom. I want this poster because it would be a great addition to my bedroom décor.
Rico:
Zazzle has helped many people meet goals that they otherwise wouldn't have achieved. What has Zazzle helped you to achieve in your personal life?
Margie Rennick :
As my store has grown Zazzle has provided me with a part time income which allows me to contribute to my household's income. This has been a blessing for me. I have an inner ear disease which at times causes me to be very dizzy and have bouts of vertigo. That makes it hard for me to work outside of my home. But with Zazzle I can sit at my computer and work even when I am under the weather, not worrying about driving to a job. Working for myself through my store at Zazzle provides an income and the flexibility I need.
Rico:
Where else can our readers find you online? (Facebook, Twitter, other blog or website)
Margie Rennick :
Genealogy Blog
Spooky Crafty Blog
Tumblr
Twitter
Rico:
Anything else you'd like to share?
Margie Rennick :
I would encourage any artist who is considering Zazzle to definitely go for it. It is a lot of hard work and takes time to build a successful store or stores but definitely worth the effort. It is also a great place for anyone to shop too. You can find just about anything you are looking for with the vast variety of designs and products, plus Zazzle regularly has sales and shipping discounts. I love it because you can find truly unique and custom items that you will not find elsewhere.