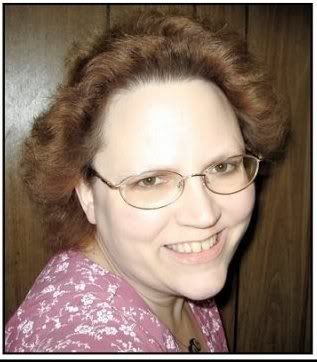 Rose Santuci-Sofranko of Artists4God
Rico:
What's Your Name?
Hi! My name is
Rose Santuci-Sofranko
Rico:
List your shop(s) -
Rose Santuci-Sofranko :
I have 7 shops (so far!) on Zazzle:
Artists4God
My very first shop and has a little bit of everything! Over 39,000 of them!
Works of Mercy
My 2nd shop, created to help raise money for a local homeless shelter, with over 1,600 products honoring our Lord's Divine Mercy, and highlighting the Spiritual and Corporal Works of Mercy (feed the hungry, clothe the naked, etc...)
Cute Critters with Heart
Came next...it's a whole alphabet of cute animals from A to Z (on over 2,200 products)....which my husband and I are working on a children's book about!
Bouncing Babies with Heart
Over 1,800 products featuring Bouncing Babies with toys and other items numbering from 1 to 10, as well as twins and triplets too!
Rose's Roses
All roses, all the time, on over 2,000 different products!
Rosie's Posies
A virtual garden filled with lots of beautiful flower types on over 1,200 products.
God's Palette
Over 150 Wrapped Canvas prints highlighting the many colors in God's "Palette" with which He colored this beautiful world.
Rico:
How long have you been at Zazzle?
Rose Santuci-Sofranko :
I first joined Zazzle in December of 2009...created a couple of items and then sadly kind of forgot about the site. It seemed so "complicated" to me at the time.
Then, about a year ago I rediscovered this WONDERFUL site, and I figured out how to create more products and started creating like crazy. I made my "first" sale (of this rediscovery period) almost exactly 1 year ago (11/23/10) and the sales were slow at first, but have been steadily increasing ever since, thanks be to God!
Rico: Are you a ProSeller?
Rose Santuci-Sofranko :
I finally was granted the basic Pro-Seller status when they revamped the "pro-seller" program. I believe I actually reached the point of being a Pro-Seller about 7 months after my "first" sale, but the program was in "limbo" for awhile so I wasn't "dubbed" a Pro-Seller until a few months ago.
Rico:
What's the best advise you got when you were starting out?
Rose Santuci-Sofranko :
When I first started out I really didn't get any advice, I wish I had know about the forums the first time around but am very grateful for finding them this time around. They have been a big help with advice about everything from keywords to creating "templates" (that was a BIG help!). Templates make it SO much easier for me to quickly create products that aren't already in the "Quick Create" (which I use all the time!)
Rico:
What medium/tools do you use to create your designs?
Rose Santuci-Sofranko :
I use a variety of mediums for my designs: many are pure photography, others are "digitally manipulated" photographs (kaleidoscopes, warps, etc...), my CUTE CRITTERS and BOUNCING BABIES stores are all graphic designs which I created in PhotoImpactPro using their basic shapes. I also utilize some decorative "dingbat" fonts for which permission is given to use them in commercial products. One or two of my designs are my pen and work drawings. So, as you can see, I like to dabble in a little bit of everything!
Rico:
Who or what inspires you?
Rose Santuci-Sofranko :
If you look at the names of my first and last shops ARTISTS4GOD and GODS PALETTE I think you will find the inspiration for my works. I've always wished I could be a great painter that could reproduce the beauty of God's Artistry in His creations.... when I found out that I wasn't a great "realistic" painter but rather a more "abstract" painter I found it frustrating....until...I got my first digital camera! Yes! I found a way to more closely "recreate" some of the beauty that our Lord shares with us!
Rico:
How much time a week to you spend on Zazzle?
Rose Santuci-Sofranko :
LOL, I spend about 25 to 30 hours a week (at least) on creating products, promoting products, etc... on Zazzle and I LOVE it!
Rico:
What's the best advise you can give someone just starting out on Zazzle?
Rose Santuci-Sofranko :
My best advice...hmmm...I love to use "Quick Create" (some people don't like it)...but I find it helps me to create a LOT of products in a short period of time. However, my advice would be to check over each item carefully...resize as needed, delete products where your design doesn't quite "work", and use appropriate keywords. When I first started out, I created a lot of "substandard" products because I didn't know what the heck I was doing....but now that I've figured out what I'm doing (with all the great help from the forums and just by "trial and error") my products are better then they were. (I still need to go through many of my old designs and delete some "substandard" products that may still be there).
Rico:
What do you like to do when you are not creating art?
Rose Santuci-Sofranko :
Oh my, what do I like to do when I'm not creating art? Well, most of what I love to do (go on drives and to Nature Sanctuaries with my husband, go to Botanical Gardens and beautiful Churches, etc...) involves taking a gazzilion photos so I can create even more art! So, I'd be at a loss to come up with something I like to do when I'm not creating art, LOL!
Rico:
Tell me 5 random things everyone should know about you?
Rose Santuci-Sofranko :
I'm not sure how "random" they are but I'm: Catholic, Pro-Life, a "Newlywed" (of 3 1/2 years), I met my husband on an online Catholic Dating Site, and We were engaged just 4 months after we first met "F2F" (face-to-face) and Married 3 1/2 months after that!
Rico:
List 3 of your favorite designs you want me to feature. Tell me something about each design.
Rose Santuci-Sofranko :
Lily "True Love is Pure Love" Wrapped Canvas Print
Lily "True Love is Pure Love" Wrapped Canvas Print
by
Rosies_Posies
Make your own
design canvas
This "Wrapped Canvas Print" speaks to my love of love and purity, and also my love of flowers!
Give me a CHOICE by giving me LIFE Print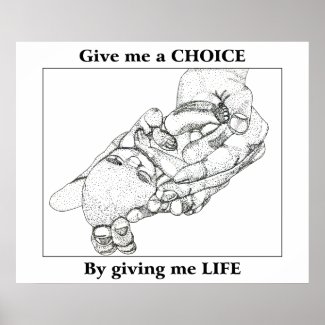 Give me a CHOICE by giving me LIFE
by
Artists4God
sell artwork online
with Zazzle.
This is a PEN and ink drawing I did of an Unborn baby (Tia) held in a hand. For Baby Tia's full story go to:
Truth TV Org
Cute Giraffe with Goldfish Photo Cut Outs
One of my Graphic designs. I had such fun creating these and I never knew I could do something like this! This is one of the little "cute critters with heart" that me and my husband are writing a children's book about. The description on this product says: "This cute "3-D" little giraffe just got a brand new goldfish and wants to show it to everybody! Will you help him?"
Rico:
This is one of my personal favorite designs from one of your shops: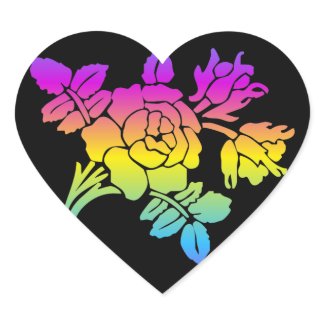 Pastel multicolored roses stickers
Beautiful pastel multicolored roses design. Feel free to add your own words/pictures and change the background color if you'd like to!
Rico: I just love these colors against the black background. Beautiful design.
Rico:
Where else can our readers find you online?
Rose Santuci-Sofranko :
I am "all over the place" online, here are some links to my other sites:
ARTIST4GOD.Net
Artist4God on Facebook
CUTE BABIES AND CRITTERS WITH HEART OF FACEBOOK
ARTISTS4GOD ON REDBUBBLE
ARTISTS4GOD VIRTUOUS PLANET STORE
ARTIST4GOD ON SPOONFLOWER
MY SELF-PUBLISHED PHOTOGRAPHY/PRAYER BOOKS ON LULU
ARTISTS4GOD ON LULU
ARTISTS4GOD ON SHUTTERFLY
ARTISTS4GOD ON "ARTISTS IN BUFFALO
ARTISTS4GOD ON YOU TUBE
ARTISTS4GOD ON TWITTER
BLOGS:
(I accept emailed submissions of other Zazzlers products - see the "Promotion" Forum for more details)
ARTISTS4GOD
BOUNCING BABIES WITH HEART
CUTE CRITTERS WITH HEART
ROSIE'S POSIES